Find out if your firm is evaluated by DALBAR...
Congratulations to the Winners!
Many of the top financial services firms in the United States are scored in one or more of our evaluations and we are able to stack them against their competitors and give incredible insight into where they are ahead and how they can improve.
We invite you to fill out the form on this page to see if your firm has been evaluated by DALBAR. One of our experts will soon be in touch to let you know where you stand.
Once completed, you'll be taken to our 2021 Contact Center Service Award Winners, the first to be announced this season.
"
At Voya, we are continuously focused on enhancing our digital participant experience to not only help increase engagement, but ultimately help improve retirement outcomes. We are thrilled that DALBAR has once again recognized Voya for the team's hard work and ongoing focus on purposeful innovation to improve the online and mobile experience for our participants."
Tom Armstrong
VP, Customer Analytics and Insight
"
We are humbled to have received strong, ongoing recognition from DALBAR these past 30 years. Our service teams work hard every day to ensure our clients expectations are not only met – but exceeded. Putnam's entire organization is truly honored to receive this award and we are committed to continuing our unyielding focus on world class service in the coming years."
Robert L. Reynolds
President and Chief Executive Officer
"
At AIG Life & Retirement, we work hard every day to understand and meet the needs of our policyholders and our distribution partners. To receive recognition from DALBAR for our quality of service year after year demonstrates the strength of our customer-centric culture. At every level of our organization, we are focused on consistently providing a high level of service to our customers."
Gabriel Lopez
Chief Operations Officer, Individual Retirement
"
Investors need to quickly locate the information they need and easily understand how their assets are invested in order to engage in meaningful conversations with their advisors. We are always advocating for the investor and are thrilled that our ongoing efforts to make data more transparent, digestible and actionable have been recognized by DALBAR."
Katie Swain
Director, Global Strategy and Product Management - BNY Mellon | Pershing
"
At Transamerica, our top priority is taking care of our customers. We are proud that our customer service representatives consistently deliver the high level of service to be recognized as a best-in-class annuity service provider by DALBAR. DALBAR sets a high standard, and we are very honored by their recognition."
Phil Eckman
Head of Customer Experience and Advice - Transamerica
"
It is with a great sense of pride that Putnam accepts this important award from DALBAR for the quality of service that we provide to our clients every single day. Along with delivering strong investment performance, we strive to bring our clients world-class service, driven by innovation, dedicated resources and a talented internal team that is second to none."
Robert L. Reynolds
President and Chief Executive Officer - Putnam Investments
"
Customer service always has been a top priority at Primerica. We continue to enhance servicing processes to deliver an excellent client experience. We are very proud to receive DALBAR's 2016 Mutual Fund Service Award recognizing our ongoing commitment to superior customer service during a year in which we achieved a record of more than $51 billion in client assets under management as of December 31, 2016."
Gregory Pitts
Chief Operating Officer - Primerica
"
We make it a priority to listen to our clients and offer solutions that meet their needs. While our retirement plan sites have been consistently rated high by DALBAR, we're committed to staying responsive and working to continuously improve our customer experiences. The refreshed site design provides an updated look and feel that will allow for a more user-friendly web experience."
Sandy McCarthy
President of Retirement Services - OneAmerica
OUR ANALYSIS COVERS
Customer Experience Touchpoints
Through detailed analyses, DALBAR supports firms in providing the best contact center customer experience. Industry-leading criteria are used to evaluate contact center services allowing firms to pinpoint areas of improvement and reach long-term business goals.
Each year DALBAR recognizes best-in-class providers with the coveted DALBAR Service Award.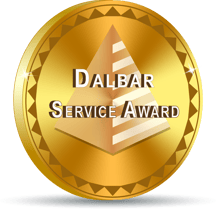 Using proprietary criteria based on years of industry research, DALBAR supports firms in their pursuit of a superior standard of care in their web and mobile customer experiences. Through the identification of trends and best practices and consistent monitoring, firms are able to exceed industry standards, correct weak points, reduce costs, achieve consistency and reach business goals.
The DALBAR Communications Seal recognizes best-in-class providers.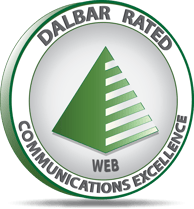 The investor statement is a powerful communication tool that can and should be leveraged to underscore the firm's commitment to a superior standard of care and build loyalty to your brand. DALBAR's Trends and Best Practices in Investor Statements ranks financial communications and identifies trends and best-in-class practices currently in use by financial firms.
The DALBAR Communications Seal recognizes firms for their commitment to Excellence in providing quality communications.